The Top 10 Ways Hackers Get Around Your Firewall
And Anti-Virus To Rob You Blind
Cybercrime is at an all-time high, and hackers are setting their sights on small and medium businesses who are "low hanging fruit." Don't be their next victim! This report reveals the most common ways that hackers get in and how to protect yourself today.
Are You A Sitting Duck?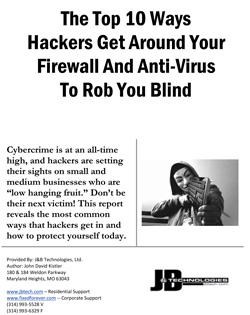 You, the CEO of a small business, are under attack. Right now, extremely dangerous and well-funded cybercrime rings in China, Russia and the Ukraine are using sophisticated software systems to hack into thousands of small businesses like yours to steal credit cards, client information, and swindle money directly out of your bank account. Some are even being funded by their own government to attack American businesses.
Don't think you're in danger because you're "small" and not a big target like a J.P. Morgan or Home Depot? Think again. 82,000 NEW malware threats are being released every single day and HALF of the cyber-attacks occurring are aimed at small businesses; you just don't hear about it because it's kept quiet for fear of attracting bad PR, lawsuits, data-breach fines and out of sheer embarrassment.
In fact, the National Cyber Security Alliance reports that one in five small businesses have been victims of cybercrime in the last year – and that number is growing rapidly as more businesses utilize cloud computing, mobile devices and store more information online. You can't turn on the TV or read a newspaper without learning about the latest online data breach, and government fines and regulatory agencies are growing in number and severity. Because of all of this, it's critical that you protect your business from these top 10 ways that hackers get into your systems.
Enter your information below to gain instant access to this report on the next page:
Important! We hate spam as much (or more!) than you and promise to NEVER rent, share, or abuse your e-mail address and contact information in any way.