7 Reasons Why You Should Get Your PC, Mac or Laptop
Repaired by JBTech.
Let's face it: you already have more than your fair share of work, and tomorrow will only bring a new truckload of problems, requests, and urgencies from your end users and managers – which is why I'm writing you today.
The reason I'm writing you today is because you might not be aware that we can take away the hassle of repairing and servicing the all your pc equipment from pc's, to laptops to mac's and we do it all in house, which means you get it back sooner.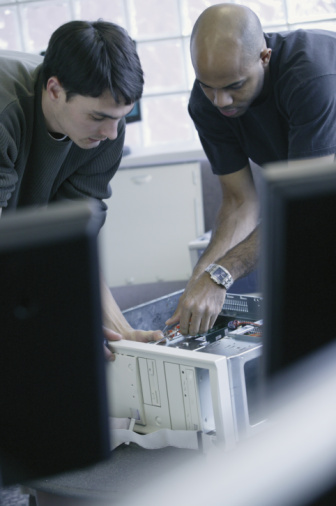 7 Reasons Why You'll Want JBTech To Handle All Your Repairs And Service Work:
The service is local. We are conveniently located in Maryland Heights, and we do all the work in-house which means you won't have to wait for weeks or months to get your PC, laptop or Mac back.
Fast and easy check-in. We are ready to get you in, when you are ready for us. There's no need to worry about setting an appointment and missing it, and if it's urgent, that's no problem; we have emergency services available and we will start working on your problem right away, while you wait. Really, what could be easier?
Free up your time searching the web. Just tell us the part number and where you need it and we'll do the rest. Or if you aren't sure what the problem is, we'll come on-site, run a diagnostic test, and order a replacement part to be there in a couple of days.
Part Guarantee. No matter what you have we can get it. Whether it's a cracked screen or a server power supply or a bad motherboard, we can get it and we can get it quickly. You won't have to wait weeks to get the part you need, and most of the time we have the part in stock!
Easy web access. 24/7/365 you can put in a request for service or for a part on our website. And once you become a client, you can place parts orders or service requests right from our website anytime and from any computer.
We're a local company with almost 20 years of excellent service. We are one of the longest standing, most trusted computer service firm in St. Louis. While other fly-by-night companies come and go, we've built a solid reputation you can count on. Ask your friends, or check us out on google reviews to see what we are all about.
Rated #1 in Customer Satisfaction. We were voted Top 20 under 20 in 2009, and Best in Value for 2011, and we've been nominated again for 2012! Our customers have told us that service after the sale is the #1 most important thing they look for in any IT service vendor, and that's where we excel.
Fill Out the Form to the right andWe'll Help You Cross A Few More
"To-Dos" Off Your List!
Claim Your One Hour FREE Data Transfer or Migration Today!
Important! We hate spam as much (or more!) than you and promise to NEVER rent, share, or abuse your e-mail address and contact information in any way.