Is Your Current Computer Guy in need of reinforcements?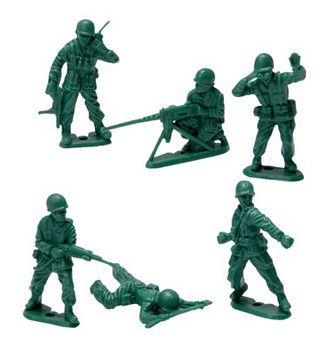 Does your current computer guy take forever to call you back, follow up on your requests, and finally make those darn computers behave?
Are you worried about the security of your data and backups?
Does your head hurt from having to deal with computer problems?
Dear Fellow CEO,
Are you sick and tired of endless office computer problems and issues AND being stuck with a computer guy who just doesn't get it? Is it really that hard to find someone who will show up quickly when you need them, fix those annoying issues that keep cropping up, and just make your systems work like you want?
If so, I've included two army men to help until we get there.
And if you're like most busy Executives that I work with, this is one battle that you'd rather be rid of once and for all!My name is John Kistler, Business Owner of J&B Technologies, Ltd., and I'd like to take this time to tell you that we can not only fix all of your IT headaches and worries, but we can do it without breaking the bank.
Why can I make such a bold statement?
Because almost every small business professional I talk to will confess that their current computer support person – whether it's an internal employee, a friend, or a "professional" consultant – is NOT completely delivering the level of service they want.
Therefore, they are constantly forced to deal with technical issues and worry whether or not their network is truly being protected from hackers, viruses, downtime, data loss and other threats.
Isn't It Time To Finally Get This Burden Off Your Back?
Although the concept of providing reliable, affordable, full-service computer support isn't an amazing concept, it still surprises me how many computer technicians don't get it right.
But my guess is that you've been disappointed…even burned…by other computer guys in the past. That's why I'd like to extend the following offer to you…
A $250 "Get-To-Know-Us" FREE Gift…
As a prospective client, I'd like to offer you a free, no-obligation, no-sales pressure IT Assessment where I'll send one of my senior technicians to your office to conduct an audit of your network's security and overall health.
When done, we'll give you a report of findings that will not only reveal if your data and computer network really is properly backed up and secured, but also if there is anything you need to do now to prevent a major network outage, data loss, hacker attack or other expensive, data-erasing disaster. Plus, we can almost always show you how to save a little (or a LOT) on hardware and software by switching to more efficient cloud computing solutions.
What To Do Next
To schedule your two hour Free IT Assessment, please call my office at (314)-993-5528. The Assessment only takes 60 to 90 minutes to conduct, and when done, you'll know for sure if your company's data is secured and exactly how fast you could be back up and running again in the event of a disaster (or if at all).
Awaiting your response,
John Kistler
Business Owner, J&B Technologies, Ltd.
P.S. Why risk it? Our free IT Assessment comes with zero strings attached and no obligations (or expectations) on your part. If nothing else it will be a good third-party validation of how well your systems are currently performing.
Please fill out the right form to claim your Free IT Assessment.
Sign up here for
Free IT Assessment
Important! We hate spam as much (or more!) than you and promise to NEVER rent, share, or abuse your e-mail address and contact information in any way.