A Letter From The Author:
Why Did We Create This Report And Who Should Read It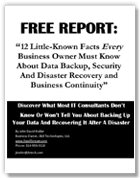 From The Desk of: John David Kistler Business Owner, J&B Technologies, Ltd.
Dear Colleague,
Have you ever lost an hour of work on your computer?
Now imagine if you lost days or weeks of work – or imagine losing your client database, financial records, and all of the work files your company has ever produced or compiled. Imagine what would happen if your network went down for days and you couldn't access e -mail or the information on your PC. How devastating would that be?
Or, what if a major storm, flood, or fire destroyed your office and all of your files? Or if a virus wiped out your server…do you have an emergency recovery plan in place that you feel confident in?
How quickly do you think you could recover, if at all?
If you do not have good answers to the above questions or a rock-solid disaster recovery plan in place, you are quite literally playing Russian roulette with your business. With the number of threats constantly growing, it's not a matter of if you will have a problem, but rather a matter of when. And even though many people KNOW they should be backing up their data, we have found that most business owners are grossly misinformed about data back and (more importantly) disaster recovery.
That's why we created this report. We wanted to give CEOs and executives an informative, easy to read guide that would explain what they need to know about backups, security and business continuity (a $.50 word for keeping your business up and running).
Just by asking for this report you are putting yourself far ahead most business owners who never get around to thinking about this issue until it's too late. For that, I congratulate you and hope that you find in this report the information and the encouragement that you need to put the proper systems in place now so you can sleep easier at night knowing you're prepared for the worst.
Serving all your backup needs,
John David Kistler – Business Owner, J&B Technologies, Ltd.
"Shubert Design Furniture has been a customer of J & B for about ten years. We have recently purchased a new server from J & B and upgraded the OS for another server. John, Bob and Tony were great to work with. They had good suggestions on things to improve what we were purchasing to make them better while still keeping the price within budget. The setup, installation and migration of data to the new servers went smooth. The servers have been up and running for several months without any glitches. Great job guys!"
Randy
Shubert Design Furniture & Bedding
Enter your information below to gain instant access to this report on the next page:
Important! We hate spam as much (or more!) than you and promise to NEVER rent, share, or abuse your e-mail address and contact information in any way.